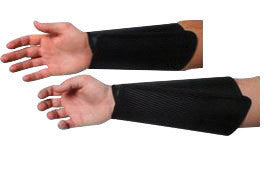 National Safety Apparel Large Black 9" 2-Ply Poly And Nylon Mesh Cut Resistant Standard Wristlet With Velcro¨ Closure
NSA Cut-Resistant Nylon Mesh Sleeves- Two-ply Nylon Mesh Sleeves adjust with a quick-release Velcro¨ closure to protect against cuts. Good cut protection at a great value. Black is available
in two sizes. White is available in three sizes and two styles including a sleeve with thumbhole. Made in USA.